HAPPY HOUR
MON - FRI 4pm-7pm
Happy Hour
Monday to Friday 4pm-7pm

$4.25
Sleeves of Bud & Bud Light
Highballs
House Wine
Selected Appetizers $3 - $5.95

Corona Bucket of 5 for $25



Appy Hour
Monday - Thursday 9pm-11pm



Appy Hour
$3.95 -$5.95 Apetizers
Monday - Thursday
9m - 11pm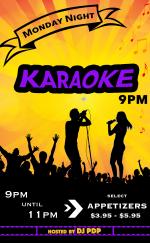 Karaoke
Mondays 8:30PM
Monday nights is Karaoke Madness at O'Flannigan's Pub. Choose your song, sign up and show us how you to can sing like a Rockstar!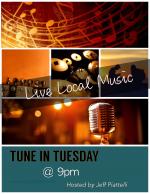 TUNE IN TUESDAYS
9PM
Tune in EVERY Tuesday @ O'Fannigans Pub
to listen to live local talent!
Your Host - Singer/songwriter Jeff Piattelli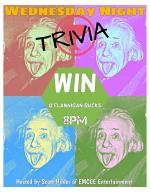 TRIVIA NIGHT
Wednesdays 8PM

PubTrivia night
Get your team together and join us!
Win $ & prizes!



WICKED WING WEDNESDAYS
8:30PM

AWESOME WINGS .35 cents each





Open Mic
Thursdays 9PM
Thursday nights is Open Mic night at O'Flannigan's Pub. Bring your instruments, sign up and then hit the stage and jam out your own original or cover music.
Your Host - Singer/Songwriter Jeff Piattelli.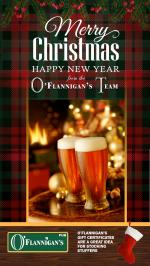 Merry Christmas
Dec 25, 2015
Merry Christmas & Happy New Year
from the O'Flannigan's Team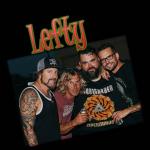 LEFTY
Dec 08, 2017 9:30
Lefty is an original rock band from Kelowna B.C.
www.leftykelowna.com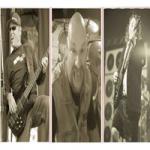 SHAKE A LEG
Dec 15, 2017 9:00PM
Live on our stage Friday & Saturday! Formerly known as Colt 45.
Kelowna's hotest Pop & Classic Rock cover band.
You will dance your pants off!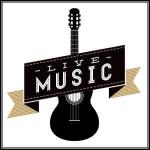 POUNDSIGN
Dec 22, 2017 9PM
This weekend live on our stage!



New Years Eve Party!
Dec 31, 2017 8:00pm
Bring in the New Year with O'Flannigan's!
Featuring Live music : COLT 45
Party Favours* Champagne toast * Prizes
Doors open at 8pm
Tickets $10 on sale Now!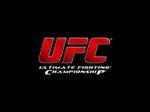 LIVE UFC PPV #219
Dec 30, 2017 7:00PM
Live on PPV!
Prelims start at 5pm. Pay Per View start at 7pm.
No Cover
http://ufc.com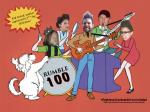 Rumble 100
Jan 05, 2018 9:00pm
This weekend on our stage!
One of the hotest cover bands in Okanagan!
http://papawheelyband.com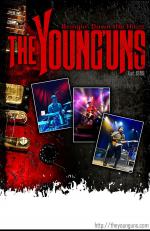 YOUNG'UNS
Jan 12, 2018 9PM
Live on our stage! Friday & Saturday!
One of the Okanagan's most sought - after bands
25 Years & Counting!
Rock, funk, country, reggae ,blues, punk rock... whatever you want to hear!
http://theyounguns.com



LINUS
Jan 19, 2018 9PM
Live! Friday & Saturday!
Basically a wicked cover band with decades of experience to play what most people want
to hear where ever they are at!
Classic rock, blues, contemporary... just about whatever you want to hear!
http://linuskelowna.com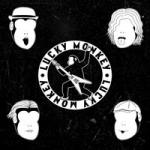 LUCKY MONKEY
Jan 26, 2018 9:00PM
Live on our stage Friday & Saturday.
Hottest current Pop & Rock band!
Must see!

LIVE UFC PPV # 220
Jan 20, 2018 5pm
Live on Pay Per View at O'Flannigan's Pub
Prelims stat @ 5pm.
PPV start @ 7pm.
No Cover!
http://ufc.com



When you want to take the party home ...
O'Flannigan's Liquor Store is right next door
Click for details.

O'Flannigan's is located in the
Royal Anne Hotel Complex.
Click for details.


Monday
Crispy Chicken Burger
Panko breaded chicken breast topped with lettuce, tomatoes, onions and chipotle sauce on a brioche bun. Served with your choice fries, salad or crisps
Only $10.95
Tuesday
Beef Dip
Thinly sliced tender roast beef on a baguette bun. Served with Au Jus and
your choice fries or potato crisps.
Only $9.95
Make it Philly Dip Add $3
Wednesdays
Available from 4pm
WINGS
0.35 each (ten per order)
Choice of: Buffalo, BBQ, Teriyaki, Honey Garlic, Sweet Chili, Greek, Maple Bacon, Mango Habanero, Lemon Pepper, Dry Garlic & Salt

Stuffed Yorkshires
Stuffed with our ground beef and vegetable shepherds pie filling, topped with mashed potatoes, cheese and gravy.
Only $9.95
Thursdays
Classic Burger
Our handmade ground pork & beef patty, lettuce, tomato, onion, pickle and O'Flannigan's house sauce on brioche bun. Served with fries or crisps.
Only $9.95
Friday
New York Steak Sandwich
Hand cut 7oz New York steak, served with fries, Caesar salad and garlic toast.
Only $12.95
Add fried mushrooms and onion $2.50
Saturday
Fish & Chips
2 pieces of our hand battered cod. Served with fries, coleslaw and tartar sauce.
Only $12.95

Live Music Every Friday and Saturday