Kelowna Live Music at O'Flannigan's Pub.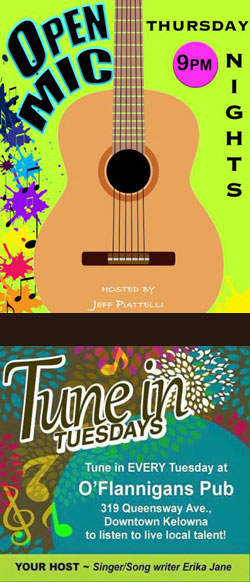 Kelowna's most unique live music acts have graced the stage at O'Flannigan's Pub. Our Irish Pub is a go-to venue for eccentric and quality independent live music entertainment - from Open Mic Night, several of Kelowna's hottest Pop & Classic Rock cover bands, to TUNE IN TUESDAYS to listen to live local talent! - O'Flannigan's Pub has Kelowna live music most nights of the week.
This friendly Kelowna pub energizes its venue with live music. We've welcomed a number of local acts including Shake a Leg, Rumble 100, Lefty, Jeff Piattelli Band and Young'uns. Whether it's rockin' out to the latest and greatest or DJ sets that bring everyone to the dance floor, O'Flannigan's Pub knows how to show its patrons a good time.