O'Flannigan's Liquor Store is right next door to O'Flannigan's Pub
conveniently located downtown Kelowna
Your One Stop Kelowna beer, wine and liquor shop! Open 7 days a week, 9AM - 11PM and all holidays!

FREE TASTINGS!!!
JUNE TASTINGS!!!
TWISTED TEA
JUNE 9, 2017 2:00 - 6:00PM
VOLCANIC HILLS WINERY
GEWURZTRAMINER AND GAMAY NOIR
JUNE 16, 2017 3:00PM - 7:00PM
WISERS DELUXE AND WISERS APPLE
JUNE 23, 2017 3:00PM - 7:00PM

This Month's Features!!
JUNE FEATURES!



BEERS OF MEXICO 12BOTTLES

$22.30 + Dep & TAX





SAMBUCA 750ML
$20.43 + Dep & TAX
JAMESON IRISH WHISKEY 750ML
$27.22+ Dep & TAX

Top Reasons To Shop At Our Store
Friendly Knowledgeable Staff
We pride ourselves on EXCEPTIONAL Service
ONE STOP SHOP FOR YOUR PARTY NEEDS
Pop and Juice of Various Sizes
Cigarettes & Cigars
Rolling Papers and Lighters
Chips, Gum and Chocolate Bars
Humongous Bags of Ice for
ONLY $2.50
AVAILABLE CHILLED
Craft Beer Bombers
Liquor & Spirits – 375mL and 750mL
White Wine
Boxed White Wine
Texas Mickey's at Government Store Prices!!
Organic and Gluten Free Options!
Wide range of Wine and Spirits
Extensive Selection of Single Beer, Coolers and Ciders
Great Monthly Specials!
Competitive Pricing!
WE ARE ANIMAL FRIENDLY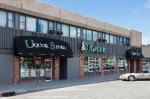 Contact Information
O'Flannigan's Liquor Store


319 Queensway Avenue
Kelowna, BC V1Y5G6

Phone: 250-763-2959

Fax: 250-763-2636

Email: beerwine@royalannehotel.com

Hours: Monday - Sunday 9:00am - 11:00pm

OPEN ALL HOLIDAYS



Store Manager: Crystal Rolfes