St. Patrick's Day Celebrations at O'Flannigan's Pub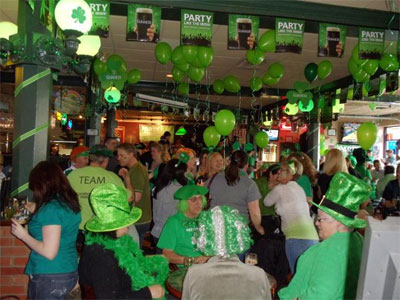 St. Patrick's Day is celebrated whole-heartedly at O'Flannigan's Pub downtown Kelowna every March 17. Green is the theme, and the Pub is decorated with everything green and Irish. Green ribbons and shamrocks were worn in celebration of St Patrick's Day as early as the 17th century. Saint Patrick is said to have used the shamrock, to explain the Holy Trinity to the pagan Irish, and the wearing and display of shamrocks and shamrock-inspired designs have become a ubiquitous feature of the day. Yes, of course, there is green beer at the pub too!
Saint Patrick's Day was made an official feast day in the early seventeenth century, and has gradually become a celebration of Irish culture ever since. In Ireland, Saint Patrick's Day is a public holiday and here in Canada it's even a public holiday in Newfoundland and Labrador! Some groups, notably Guinness beer, have lobbied to make Saint Patrick's Day a national holiday here in Canada. It is by far, the world's most popular celebrated saint's day. Guinness World Records awarded St Patrick's Day as the worlds official 'Friendliest Day of the Year'. 26 Countries across 4 continents joined the campaign to make it so.
Come on down to O'Flannigan's Pub next St. Patrick's Day and join in the Irish festivities!