Kelowna Comedy - Flirty Comedy Show hosted by Kyle Patan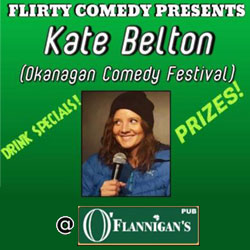 O'Flannigan's Pub becomes Kelowna's favorite Comedy Club with the Flirty Comedy show hosted by Kyle Patan. Come enjoy our comedy show in downtown Kelowna, typically every Wednesday night at 9PM. Admission to the show is only $5!
Stand-up comedy is one of the toughest gigs in entertainment. A comic stands before a room full of strangers from all different walks of life, and must get at least two-thirds of that crowd to laugh. It is very easy for someone to ruin the show, even unintentionally
Kelowna Comedy Gig Etiquette: the dos and don'ts of being an audience member
1. DON'T heckle
Interrupting the comic just for the sake of it is a no-no: it disrupts the flow of their routine and ruins it for others. You will almost certainly be made to look the fool as comics tend to have stock come-backs to a heckler.
This rule is not completely unbreakable. Some comedians and comedy nights are much more informal and a bit of interaction is positively encouraged. But if in doubt, keep quiet.
2. DO laugh with abandon
The whole idea is to let yourself go a bit and leave any self-consciousness at the door.
Some of the best audience members are really loud laughers who create a bit of momentum, which can help things along.
Let yourself be swept away and don't overthink it.
3. DON'T try and be funny yourself
Some audience members, when they're asked a question by the comedian, try and answer humorously, making it all about themselves.
They don't realize they're merely being used as a foil or a bridge to move from one part to the next.
The last thing a comedian wants is to be shown up by someone in the audience. If you try to be funny, the chances are they'll make you look stupid to regain control.
4. DO sit in one of the first few rows
It's no coincidence that the front few rows are the ones that tend to laugh the most.
This is because the punters in these rows are more engaged and less likely to be distracted by other things.
If you want to avoid being picked on by the comic, sit in the third or fourth row from the front, where you're still up close enough to fully engage with the show but not quite close enough to catch their eye.
5. DON'T eat while you're watching
Many comedy venues now offer food, but avoid eating while the comedian is performing as it only serves as a distraction.
You don't want to be chomping on a lamb cutlet when they're telling their best jokes.
You don't want to be in a comfortable chair, tucking into dinner and only occasionally looking up to see what the comedian is saying. That's not what it's all about.
6. DO turn your phone off
Comedy clubs are supposed to provide a momentary break from both the outside world and the internet. Your phone will just distract you and others.
Recording the act on it is definitely not on either. If a routine ends up on YouTube it can kill it for the comic, and they might have to retire it from their live set.
7. Conversation
Keep it quiet and under thirty seconds. Voices carry, even over a sound system. Let other people hear the show, your friends will still be there to talk to when the show is over.