Kelowna Trivia Night - Wednesdays at O'Flannigan's Pub.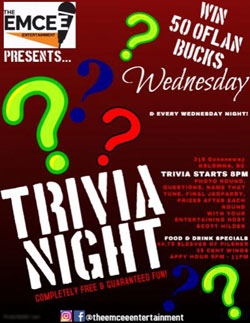 Join O'Flannigan's at 8pm Wednesdays for Kelowna Trivia Night, Beer, Prizes and Good Cheer. If trivia is your game, we've got you covered! Every Wednesday night at 8:00, join EMCEE entertainment for a challenging bout of pub trivia at O'Flannigan's!
Topics include science, pop culture, history, general weirdness and much more!
Grab your friends to prove your intellectual excellence, mental mettle, and cerebral superiority! May the best team win.